'Teen Mom' Star Claps Back After Trolls Viciously Go After His 1-Month-Old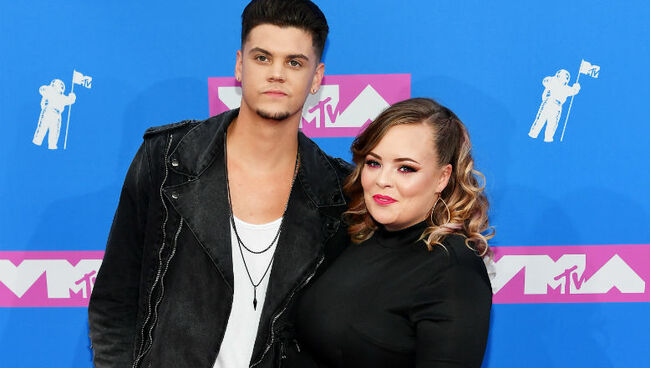 Teen Mom OG star Tyler Baltierra showed off his newborn baby girl, Vaeda, on Tuesday (March 19), but certain comments from Instagram trolls had the reality star furious when they criticized the one-month-old.
"Vaeda is a month old this week & idk how it's possible, but she keeps getting cuter! 😍❤️," he captioned the photo of Vaede, who he shares with wife Catelynn Baltierra. Unfortunately, some decided to criticize the newborn and question whether he was the father or not. Over on Catelynn's account, the star also shared some shots of the little one and tried to play off the criticism with a joke. "Sorry babe I totally cheated and Vaedas not urs #peoplearecrazy #comeon," she wrote alongside several laughing emojis.
Nonetheless, Tyler showed no mercy when he decided to clap back at the haters. "Wow. I'm actually just appalled at the ridiculously asinine comments about my newborn. We live in a world that is so divided, judgmental, self righteous & opinionated…& unfortunately it's very evident with these comments," Tyler hit back in the comment section. "Respectful MATURITY is having a strong opinion & voicing it when necessary. Disrespectful IMMATURITY is having a strong opinion & voicing it when it is NOT NECESSARY. Your deity knows all of your thoughts…but evil can only hear what comes out of your mouth."
Back in 2017, Catelynn suffered a miscarriage, but decided to look at Vaeda as a miracle. "This baby is our rainbow after the storm," Lowell told Us Weekly. "We were using protection and everything. This baby just wanted to be here. It is very unexpected." The Baltierras are already parents to Novalee, 4, and Carly 9, whom they placed for adoption in 2009.