Oscars Performances Worth Revisiting
Grammy season is done and over with, but the 90th annual Academy Awards are right around the corner and the upcoming ceremony is set to feature performances from the likes of Mary J. Blige, Miguel, Andra Day and more. It's a night devoted to the beauty of film, but there's no denying that musical numbers have stolen the limelight. To prep you for Hollywood's biggest night, iHeartRadio has rounded up 10 performances of yesteryears that are worth revisiting.
1. Jennifer Hudson & Beyoncé - Dreamgirls Medley (2007)
They might have been in the middle of headlines surrounding their rumored feud, but Jennifer Hudson and Beyoncé brought their share of pipes for a medley performance of Dreamgirls cuts in 2007. They shimmied on stage. They belted. They pranced. It was eight minutes of Dreamgirls highlights as the pair performed "Love You I Do," "Listen" and "Patience." However, we know who really came out on top as Hudson won a Best Supporting Actress title for her role in the film.
2. Common & John Legend - "Glory" (2015)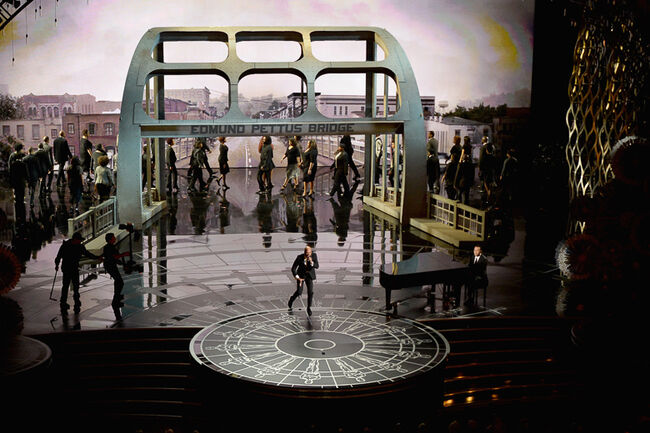 Common will take the stage at this year's ceremony, but it certainly isn't his first time on the Oscar stage. Roughly 50 years after Dr. Martin Luther King Jr.'s march in Selma, Alabama, the multi-talent hit the Academy Awards with John Legend to perform "Glory" from the film, Selma. In his element, the R&B singer unsurprisingly kicked off the number at the piano, before offering the spotlight to Common, who had a predominately black crowd backing him on what looked like the Alabama's Edmund Pettus Bridge. Powerful.
3. Celine Dion - "My Heart Will Go On" (1998)
20 years after its debut, Celine Dion's "My Heart Will Go On" from Titantic still hits the same way that it did when it was released in 1998. Not only did the James Cameron film sweep the competition that year, but the pop titan also performed the beloved ballad alongside a full orchestra and even a look-a-like necklace similar to what Rose wore in the movie.
4. Three 6 Mafia - "Hustle & Flow" (2006)
2006 saw Three 6 Mafia bring their Hustle & Flow track "It's Hard Out Here For a Pimp" to the Academy Awards stage with an elaborate set that mirrored the movies theme. It might sound stranger for the Oscars audience, but the footage is the real deal, folks. Fun fact: the Oscar award for Best Song went to the Southern rappers that very year.
5. Lady Gaga - Sound of Music Medley (2015)
Mother Monster has performed at the Oscars a couple of times, but her medley performance for the 50th anniversary of The Sound of Music still prevails as her top showing. Not only did Julie Andrews take the stage immediately following the number for some praise, but it was a performance that earned the multi-talent a standing ovation. Never forget that Gaga was a classically trained singer. Plus, when Andrews calls your performance "stunningly good" you know that you've delivered.
6. Adele - "Skyfall" (2013)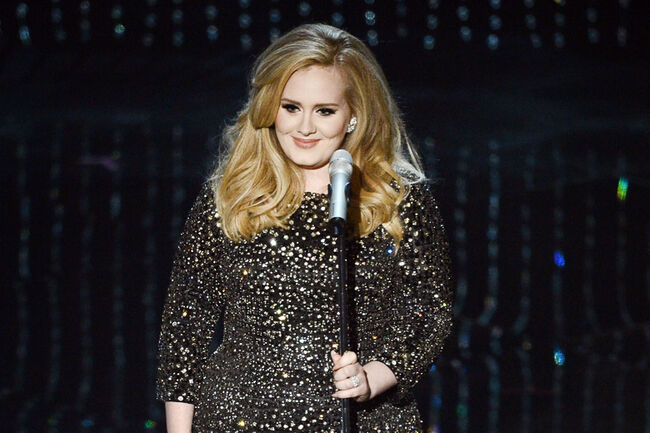 Leave it to Adele to stun the Academy Awards with a grand performance of "Skyfall," the title track from the 2012 Bond film of the same name. Alongside an orchestra of more than 15 members, the British chart-topper let her performance do the talking as she belted in a sparkling gown that appropriately matched the beaded set. It was only 30 minutes or so before Adele picked up the award for Best Original Song, only further validating the evening milestone.
7. Bruce Springsteen - "Streets of Philadelphia" (1994)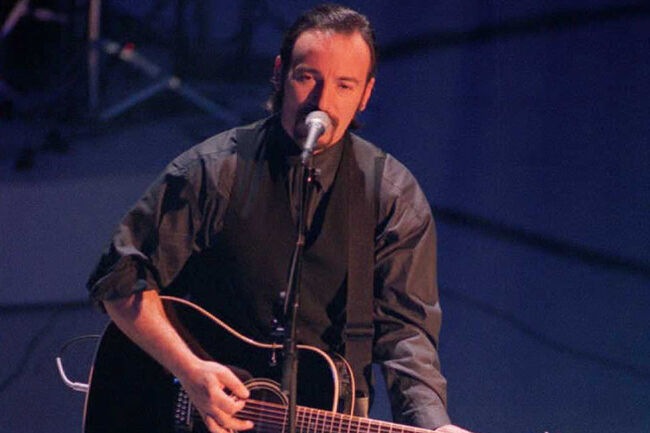 Even though Bruce Springsteen had never wrote a song for the world of film, "Streets of Philadelphia" and its accompanying performance at the 1994 Oscars turned out to be a big win for the veteran rock icon. It was all for Tom Hanks's AIDS drama, Philadelphia, and saw The boss offer the audience with the emotional ballad and, boy, did it hit hard. We could have done without the goatee, but that was just a minor detail in the chart-topper's number.
8. Madonna - "Sooner or Later" (1991)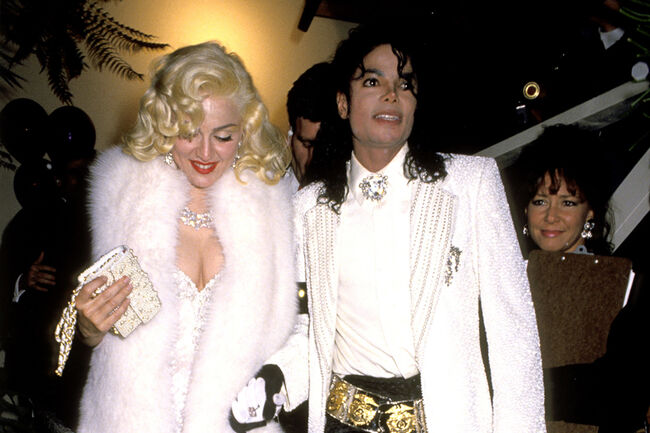 Madonna knows sex so well that she decided to offer up the likeness of another sex icon, Marilyn Monroe, for her 1991 performance of "Sooner or Later" off of Dick Tracy. For her five-minute number, the Queen of Pop rocked a sequined dress, matching boa and kept it sensual instead of raunchy. It also happened to be the year that she took Michael Jackson as her date to the ceremony, so if this entire night doesn't screen iconic, then we don't know what does.
9. Tegan and Sarah and the Lonely Island - "Everything is Awesome" (2015)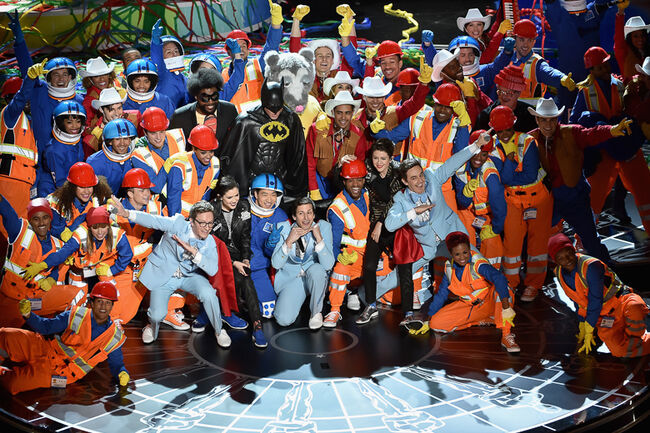 We can't think of a more overtly positive Oscar number than Tegan and Sara's rendition of "Everything is Awesome" from 2014's The LEGO Movie. Oh, and they pulled out all kinds of stops for the number. While Andy Samberg and his Lonely Island bandmates rappers during the ceremony, everything else was just a visual mindf**k for the 2015 number. Will Arnett was dressed Batman with Questlove. There were DayGlo construction works. It was just, erm, a lot.
10. Michael Jackson - "Ben" (1973)
Even at just 13-years-old, Michael Jackson was on top of the world, as seen by his 1973 performance at the Academy Awards when he performed "Ben" from the film of the same name. If you're curious or too young to know, Ben was about a young boy's relationship with a rat. During Charlton Heston's introductions, he mentioned that it was probably past his bedtime, but that's the kind of work you do as a child when you're set to become the future King of Pop.
11. Lady Gaga - "Til It Happens to You" (2016)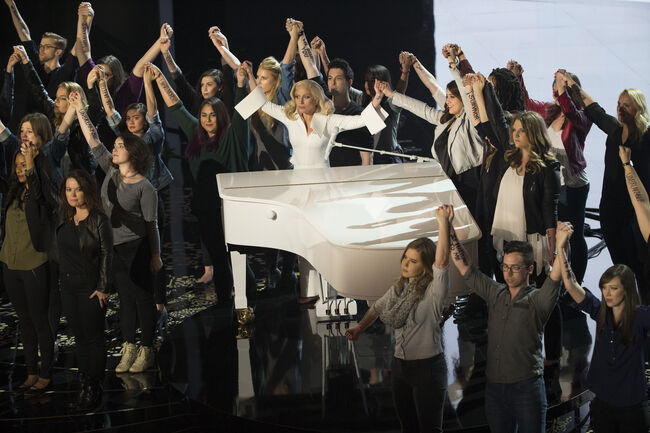 Lady Gaga — known, in part, for her over-the-top stage production and elaborate, rigorous performances — dialed things down all the way down for the 2016 Oscars. Accompanied solely by a piano for the bulk of the performance, Gaga sang the emotionally charged "Til It Happens To You," — a song she co-wrote with Diane Warren for The Hunting Ground, a 2015 documentary about rape on college campuses. She was then joined onstage by more than 50 sexual assault survivors, making for one of the most gripping, powerful Oscars moments in recent memory.